Annual Legislative Day



KSHA members are invited to attend our annual Legislative Day in Topeka. At this event, KSHA members earn free CEUs by attending sessions about current legislative priorities and learn about ways to become involved in the legislative process. Legislative Day also provides an opportunity for members to meet with their legislators and begin to form relationships with those who represent our members at the State level. (This course is offered for 0.2 ASHA CEUs (Intermediate level, related area)
---
Save the Date! KSHA's Annual Legislative Day will be Tuesday, January 28, 2020.
Prior to attending Legislative Day, it is strongly suggested that you contact your legislator and request an individual meeting if you are going to be in Topeka. If not, please consider following up with a phone call, e-mail or a visit at the local level when they are in your district.

This is an exciting opportunity for KSHA members to communicate with legislators on issues of importance to our profession and to the patients and clients that we serve. Typically the format is the following:
Meet at the Capitol before 9am to get materials relevant to the day's activities: times of pertinent legislative sessions of interest, strategies to interact with legislators, talking points when engaging with legislators; Typically there are remarks from our Capitol Strategies lobbyist regarding issues of interest and/or a legislator may be invited to discuss current issues before the legislature

Lunch (in the Capitol) and invitees include legislators; often legislators will make short remarks and answer questions from members

Meetings with individual legislators and/or attending House and/or Senate sessions; there may be presentations by individual legislators to the group depending on what issues are being covered

Summary of the day: We gather as a group and discuss what observations and information that were obtained by the group; we then discuss "What is next?"
WHEN: Tuesday, Jan. 28, 2020
TIME: 9:00 - 4:00
WHERE: Capitol Building (Topeka)
WHO: Open to KSHA members AND non-members
WHAT: KSHA members are invited to attend our annual Legislative Day in Topeka. At this event, KSHA members earn free CEUs by attending sessions about current legislative priorities and learn about ways to become involved in the legislative process. Legislative Day also provides an opportunity for members to meet with their legislators and begin to form relationships with those who represent our members at the State level.
CEUs: 0.2 ASHA CEUs available
LUNCH: KSHA will provide complimentary lunch for you and your legislators.

Directions to the Capitol & Parking Information

NEW THIS YEAR!! Going to the Capitol for the first time can be a little intimidating.
How will I know where to go? What will I do when I get there? Where do I park? What should I take? What should I wear? How should I talk to legislators? Do they even want to talk to me? What should I say? What's important and how can I make a difference?
With feedback from our members and past attendees, KSHA has developed a new Advocacy Mentor program. First or second-time attendees (clinicians AND students) are invited to participate in the program. When you register for Legislative Day, simply note that you would like to be matched with an Advocacy Mentor on the registration form. If you are someone who has attended Legislative Day before, please consider volunteering to be an Advocacy Mentor. You may sign up when you register for Legislative Day. KSHA will provide instructions and resources for Mentors.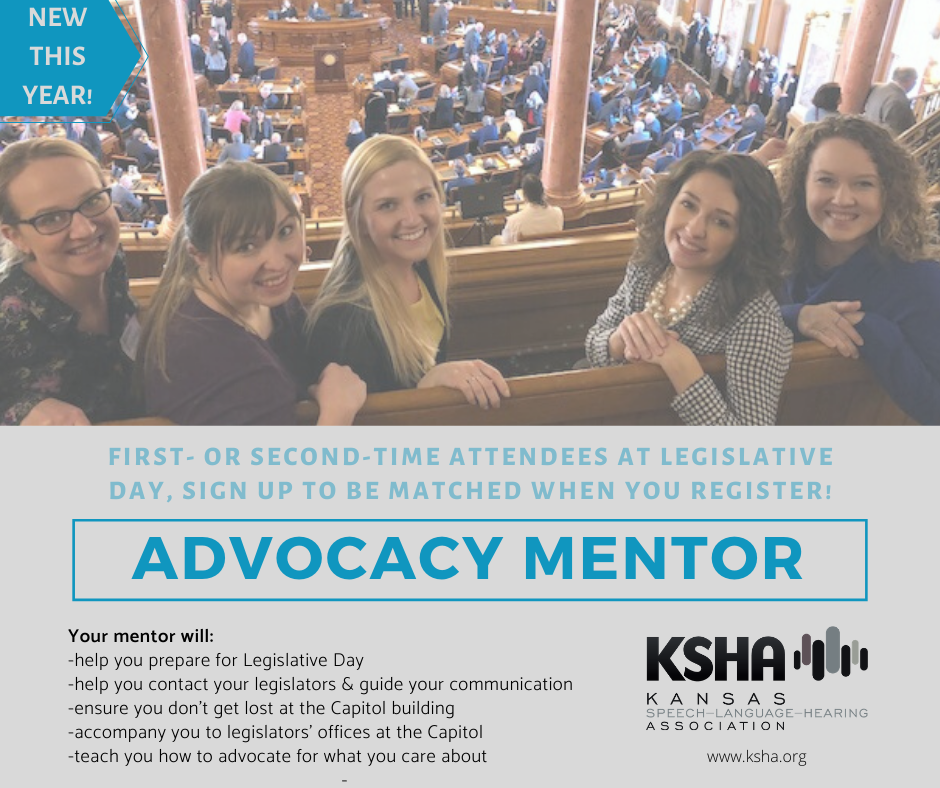 AGENDA: Printable version HERE


REGISTER (FREE) FOR LEGISLATIVE DAY

DEADLINE: DEC 31, 2019 if you want to participate in the Advocacy Mentor program.
JAN 21, 2020 for all others.